Gold Members' Content

Articles by Gold members

YouTube videos by Gold members

3rd party reviews of Gold members
healthyvoices.net articles
Good Habits You Can Develop So You Can Lose Weight

Yoga, Your Daily Exercise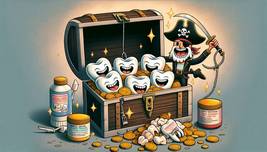 Why Cleaning Your House is Great for Your Health

Overview Of The Latest BPC-157 Peptide Research

Some Tips on Dealing With Urinary Incontinence

Number of listings removed from our directory since 1st November 2019 =
43
Articles by Gold Members of dentistlistings.org
If you have a Gold listing on dentistlistings.org and you have a blog on your website, we'll give you extra coverage for your latest blog entry right here! This service is automated - you don't need to do anything. Once you publish your latest blog on your website, we'll spider your website and find it - then publish a link to it right here! Not a gold member? You can add your website (and become a Gold member in the process) here.
How Do Clip On Veneers Stay In?
published on 13 November 2020 by fabsmileveneers.co.uk The post How Do Clip On Veneers Stay In? appeared first on Fab Smile Veneers. ... >> read more
Do I have to be a member to have treatment?
published on 12 November 2020 by kilnlanedental.co.uk This is a question we get asked all the time, here at Kiln Lane Dental. "Do I have […] The post Do I have to be a member to have treatment? appeared first on Kiln. ... >> read more
Need something to smile about this November?
published on 4 November 2020 by harleystreetsmileclinic.co.uk The cold wet months are upon us, nights are drawing in and, as we approach a second national lockdown on Thursday 5 November, for many of us there feels like little to... The post Need something to smile about this November? appeared first on Harley St... >> read more
The Life of Your Smile – How Age Impacts the Health of Your Teeth
published on 10 September 2020 by judsontconnelldmd.com Written by Consumer Guide to Dentistry Getting older has many benefits. Of course, with everything in life, there are trade-offs. As we age, the body needs more tending to, the teeth and oral health being no exception. Over time we become more suscepti... >> read more
Smile Solutions is open! Why it is safe and essential to continue visiting the dentist during COVID-19 lockdown
published on 11 August 2020 by smilesolutions.com.au As the global COVID-19 outbreak continues, many people are left questioning what is safe and what is essential when planning their day to day life. These questions have permeated the dental world as well, and at Smile Solutions, we are sharing importan... >> read more
…A little message from your Hygienist
published on 11 June 2020 by briarsdentalcentre.com To all my patients, I hope you are all keeping safe and well. I have been missing you all and hope to get back in the surgery soon. Since we had to put down tools and stay at home all our lives have changed so dramatically. I find myself home schooling... >> read more
Dental Practice Reopening – Update
published on 8 June 2020 by prestoncircusdentalpractice.com We recently welcomed an announcement from our Chief Dental Officer that we can start to plan a phased reopening of the practice from 8th June – news that we've been waiting for since we went into lockdown. It is however vital that we resume our service... >> read more
Top Tips for Teeth Whitening
published on 24 April 2020 by freedomdental.ie The beverages we drink, the food we eat, and our age itself work against our teeth over time causing them to discolour. Not only do we use our teeth to chew and talk, but they also make or break your appearance. Teeth can become yellow due to stains bo... >> read more
News in dentistry
published on 22 June 2018 by vita-center.com When …. The post News in dentistry appeared first on Dental implant, clinic abroad. ... >> read more
Is It Time for a Fresh New Start?
published on 27 February 2017 by 718dentist.com The upcoming arrival of spring ushers in a fresh new start – new flowers, newly budding trees and fresh new grass on your lawn. It's also a great time of the year to give yourself a fresh start. For some, that means simply switching to brighter clothin... >> read more
Is It Time for a Fresh New Start?
published on 27 February 2017 by 718dentist.com The upcoming arrival of spring ushers in a fresh new start – new flowers, newly budding trees and fresh new grass on your lawn. It's also a great time of the year to give yourself a fresh start. For some, that means simply switching to brighter clothin... >> read more